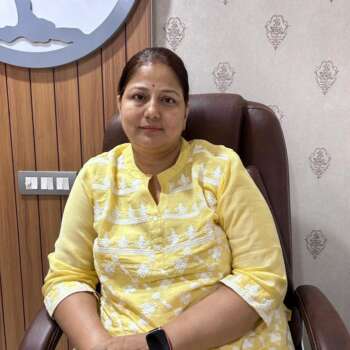 Dr. Renu Sharma
Director & Head of Yoga
Phone: +9928036138
E-mail:
info@charakayurveda.com
Dr. Renu Sharma is a distinguished individual in the realm of holistic well-being and Ayurveda. As the Director and Head of Yoga at Maharshi Charak Ayurveda Clinic & Research Center, her expertise and leadership are integral to the center's mission of promoting wellness through ancient wisdom.
Driven by her passion for holistic healing, she has seamlessly integrated these disciplines to offer comprehensive wellness solutions. As the Director and Head of Yoga, Dr. Renu Sharma embodies the center's commitment to holistic well-being. Her guidance ensures that Maharshi Charak Ayurveda remains a haven for individuals seeking natural and sustainable health solutions. Through her expertise, she develops and oversees yoga programs that seamlessly blend ancient wisdom with modern lifestyles.
Dr. Renu Sharma's approach is characterized by her dedication to personalized care. She recognizes that each individual's wellness journey is unique, and she tailors yoga practices to suit varying needs and goals. With her compassionate guidance, individuals find harmony in their physical, mental, and spiritual dimensions.
Her leadership extends beyond the center, as Dr. Renu Sharma also engages with the wider community through workshops, seminars, and consultations. Her holistic expertise and commitment to sharing knowledge have made her a respected figure in the field.
Dr. Renu Sharma's impact is felt through the transformative experiences of those who engage with her teachings. Her deep-rooted belief in the power of yoga and Ayurveda to foster holistic well-being reflects in her interactions and programs. With her at the helm of Maharshi Charak Ayurveda's yoga offerings, individuals can embrace a path of wellness that nurtures the body, mind, and spirit.
Contact form
Send Message to Our Team