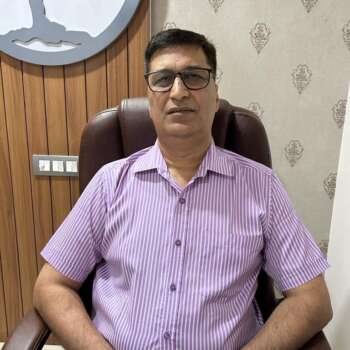 Dr. Rajesh Kalwadiya
C.E.O & Chief Physician
Whatsapp : +91 9928036138
E-mail: drrajesh@charakayurveda.com
Dr. Rajesh Kalwadiya, a distinguished figure in the field of Ayurveda, serves as the Chief Physician and CEO of Maharshi Charak Ayurveda Clinic & Research Center in Jaipur, India. Notably, he also holds the position of Chairman for the Maharshi Charak Health Foundation, a notable non-governmental organization. Dr. Kalwadiya's educational journey includes a Bachelor's degree in Ayurveda Medicine & Surgery (BAMS) from Rajasthan University, Jaipur, in 1996. He further expanded his expertise by obtaining certificates in Panchakarma from renowned institutions in Kerala.
With an impressive professional history, Dr. Kalwadiya has contributed significantly to the field. He served as the Chief Medical Officer at Sunrise Health Resort in Jaipur, specializing in Ayurveda, Panchakarma, Naturopathy, and Health Spa treatments. Additionally, he assumed the role of Ayurveda Medical Officer & Incharge at Krishana Gopal Ayurveda Bhawan Hospital in Jaipur.
Dr. Kalwadiya's influence extends beyond his clinical practice. He has acted as a coordinator and advisor in various Ayurveda training institutes. His expertise has transcended borders, as he organized seminars, courses, and consultations in Russia, Netherlands, Bahrain, and Hungary.
Recognized for his outstanding contributions, Dr. Kalwadiya received the esteemed Global Best Ayurveda Physician Award in 2008. This accolade was presented by Dr. Farooq Abdullah, the Union Minister of India, in a ceremony at the Constitution Club in Delhi. Dr. Rajesh Kalwadiya's impact on Ayurveda, particularly in the realm of Panchakarma therapy and teaching, has garnered widespread acclaim in the northwestern region of India. With a global reach and a commitment to excellence, he stands as a registered practitioner with the Board of Ayurveda in India, contributing to the advancement and promotion of Ayurvedic healing practices.
Confact form
Send Message to Our Team